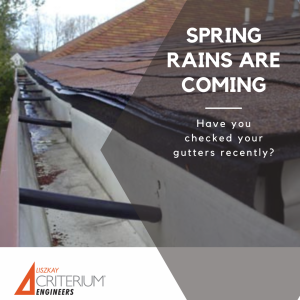 Are you experiencing drainage issues or water intrusion at your home? Wet soil around your home is one of the most common conditions that can lead to foundation problems. When considering basement foundations, "Hydrostatic Pressure" can be described as the constant force of water pressure being exerted against the basement walls. Water weighs more than 60lbs. per cubic foot. If the soil around your basement is saturated with water there could be tens of thousands of pounds of hydrostatic pressure pushing against your foundation.
One of the most effective ways to protect your foundation and avoid the need for future repairs is to properly clean and maintain your gutters and downspouts. During the fall and winter, gutters can accumulate all kinds of debris, from dried leaves to twigs and dirt. Make sure to clear your gutters of debris, especially ahead of heavy rains. During rain events monitor gutters, downspouts, and underground drains. If you see water backing up, or not flowing out to the street you may have a clogged or obstructed drain.
Contact Criterium Liszkay Engineers today if you are experiencing drainage or foundation issues at your home.